Home screen customization is a popular way to make your iPhone stand out. It's fun to give yourself a cool iPhone Home Screen layout. Separating your apps into folders on different pages is an excellent method of keeping your collection well-organized; however, there are many other ways to arrange the iPhone Home Screen layout as well.
Whether you want a minimalistic look or something more animated, there are plenty of ways to customize your home screen. Check out the 15 best iOS 15 home screen ideas below!
Best iOS 15 Home Screen Ideas
Alacrity Home Screen – Best iOS 15 Home Screen
Alacrity Home Screen is all about the customization that expresses your personality. It's one of the most popular iPhone home screen ideas. Start with an icon on the dock, and then pin often utilized apps like productivity apps, social media, and others.
You can add a Photos widget to the top of the screen to help spread positivity in your life and remind you of your loved ones every day. Include the widget for a To-Do list next to it, so that you can concentrate on your goals and inspire yourself to develop more for those you love.
Include the most popular apps in the first row, including maps, contacts, music apps, cab booking apps, etc.
There is no limit to what you can put on your first home screen, and you can maintain others too. Select any bright, light color to radiate positive vibes throughout the day. colors affect your daily life, so select cautiously.
Feel Motivated – Creative iOS 15 Home Screen
Are you launching a new company or pursuing an entirely new subject? Every successful person was told they would fail, and you could be around those who have been told the same. Don't allow anyone to tell you how to live your life, or in what terms you'd like to achieve success on the path you decide to take.
You are spending a lot of time using your phone to read, answer questions, study, and so on. It is recommended to use light and vibrant wallpaper to relax your eyes. It will help keep you motivated. Bright colors have been proven to boost your mood and can positively impact your life.
Put three motivational phrases in each of the three areas on the display. Use text icons or notecards to encourage you to keep moving forward and concentrate on the task to achieve the desired goal.
Modify the dock and pin apps that are frequently used.
Also Read: Best 8 Free Chatroulette App iOS | 2021 Updated
Willfulness
Human brains have surpassed the imagination of all people, and you can do similar things in a limited environment. It is possible to arrange iOS fifteen apps into folders and change the names of each one. It is possible to use icons or emojis instead of text to indicate the category of the folder.
You can make use of the icon for the video camera emoji to define the genre and then push YouTube, Vimeo, Netflix, Amazon Prime, and many other apps into it.
You can place one app category within the folder.
Hold your folder down for a few seconds, then select"Rename" from the " Rename" option.
Take the name that is currently in use.
Start the Emoji Bar on the keyboard and begin looking for an appropriate icon to use in the folder.
I chose the office-building emoji for office-building.
Escape from the keyboard.
The folder can be reduced to show an image of the emoji/icon within the name of the folder.
Remove the system applications from your dock and substitute them for commonly frequented ones. It will be easier to navigate and boost efficiency by having shortcuts within the dock.
It is possible to set any wallpaper you want on your home screen, but I recommend you choose a beach-themed background for a more uplifting mood. There are two Home Screens so that you can create a separation between your professional and personal lives and not have to be concerned about distractions.
Fire Focus – Unique iOS 15 Home Screen
We live a hectic life and don't have a moment to waste on useless things. You're burning and moving at lightning speed, and nothing is stopping you. It is essential to have your iPhone ready to ease your burden and simplify your daily chores.
Get rid of all apps that are not needed from your dock and pin apps that are productive, such as the browser, email, and to-do list app.
Create a blurry wallpaper that connects your home with the surroundings.
Install a battery widget on the first row so that you don't have to get up in the morning with only 10% remaining to fill up. Unfortunately, the most recent iPhone has a notch on every model; however, you'll not find any notch on Android phones on the market.
Incorporate a calendar application in the first row to allow you access to reminders, as well as other information, quickly.
Rainbow Spirit
Your iPhone is equipped with rainbow wallpapers within it, and it's a good idea to try them out for a change. Do not be afraid to stay away from them as the developers have made them with the iOS device in the forefront of their minds.
The wallpapers feature a wide dynamic range with vibrant colors that match the screen. The wallpapers are created keeping in mind the aspect ratio and also the kind of technology, which is why the rainbow wallpapers included in the library are worth a try on the iPhone.
The dock is changed to reflect the earlier choice.
Phone app
Safari browser
Messages
Music
Apple altered the Music app's color back to its previous version. You can now have several Screens for your Home Screens as well as arrange them according to your preference and segregate each screen with the help of a category. Now. I'll leave the creative aspect to you and invite you to discuss the idea in the comments section.
Aesthetic Pink
I'd like to begin with aesthetic pink. It is a blend of pink-themed and well-organized home screens. There's no reason to have multiple screens on the device, and have all the apps installed on the same screen.
Music is a major source of entertainment for millions of people around the world. We will include a widget for Apple Music as well as Spotify right at the top. Social media is a crucial aspect of our lives, which is why we combine all applications into one folder. You are free to modify the top panel according to your preferences. So I'm not going to recommend any other option.
Everyday chores are essential, and we shouldn't run the risk of forgetting them. Therefore, you should give a slap to your To-Do-List widget in the middle of your screen. It is possible to take a glance at the list of things to be completed during the current day.
You must fit all apps installed on one screen, which means you have to arrange the apps at the lower part of the display.
Brown Bread – Top iOS 15 Home Screen
Brown bread can be a color scheme that is suitable for the latest iPhone models. A lot of iPhone users have chosen to stay out of Apple services and have begun to enjoy third-party apps.
Incorporate frequently used apps into the dock. Music is my preferred app when working. I'm an avid Spotify user, and it's the first app I choose to use in the dock.
Create a calendar widget for the top of the screen to let you be aware of the day's date. Include three applications of your choice and then put all your social media apps into the folder.
Music is life. This is why Spotify, as well as the Apple Music widget, go in the middle of the screen. You could select the widget that will take the middle slap for as long as you want.
Use apps on your computer frequently, but they could be needed at any time. Create several folders and put all the frequently used applications in them, including system apps.
Mr.Organizer – iOS 15 Aesthetic Design
iOS software doesn't permit users to greatly personalize the device. That's the only limitation. It's not possible to overcome the restrictions; however, you can include widgets, folders, and applications for it to feel like the home of your device.
I suggest leaving my dock customization to you. I'd recommend sticking to the default apps as they are.
They're optimized to function efficiently on. Install third-party widgets through the App Store and include an enormous calendar widget at top of the row. You can look at your days, dates', and monthly calendars on your home screen itself.
Create four folders on the second row. You can add social media, school/work photos, and games, as well as notes, to them. Notes can be added as a widget to your home screen, and it is a reminder of your goals.
Include a clock widget on the last row, and then create folders to organize applications in one spot. You can also create categories including tools, games, productivity, and much more. The goal is achieved by arranging your Home Screen for productivity and quicker accessibility.
You can pick any brown-colored wallpaper, However, make sure that it contains fewer elements that can distract you. The wallpapers must have distracting designs, words, or a sketch that reminds you of particular moments in life.
Inside Macrocosm
Each person is different from the inside out, and we have distinctive iPhone home screen layout suggestions to help you. It's not available on standard iOS software and requires jailbreaking iPhones for huge customization.
Note
Do not jailbreak your iPhone in the interest of customization. This puts your phone at risk, and may even damage it for good.
It is necessary to download some applications from Cydia, and they're also accessible in the store.
Create a custom icon pack, and it will contain icons of the top apps in the App Store. It is possible to have a single display on the top of your screen with four important apps that match your career or interest.
Include two widgets in the second row. It must be the one you prefer to achieve the best results. Choose only the most popular apps to make your home screen look attractive. Don't sacrifice practicality in exchange for a unique output and aesthetic design.
Dockless
The Dock's value is lost when you have all apps on one screen, instead of having them scattered across several pages. Therefore, you can use an inventive technique to conceal the iPhone dock instead.
It is a matter of switching your wallpaper to hide the dock. It's a good thing that there are a lot of wallpaper choices to pick from.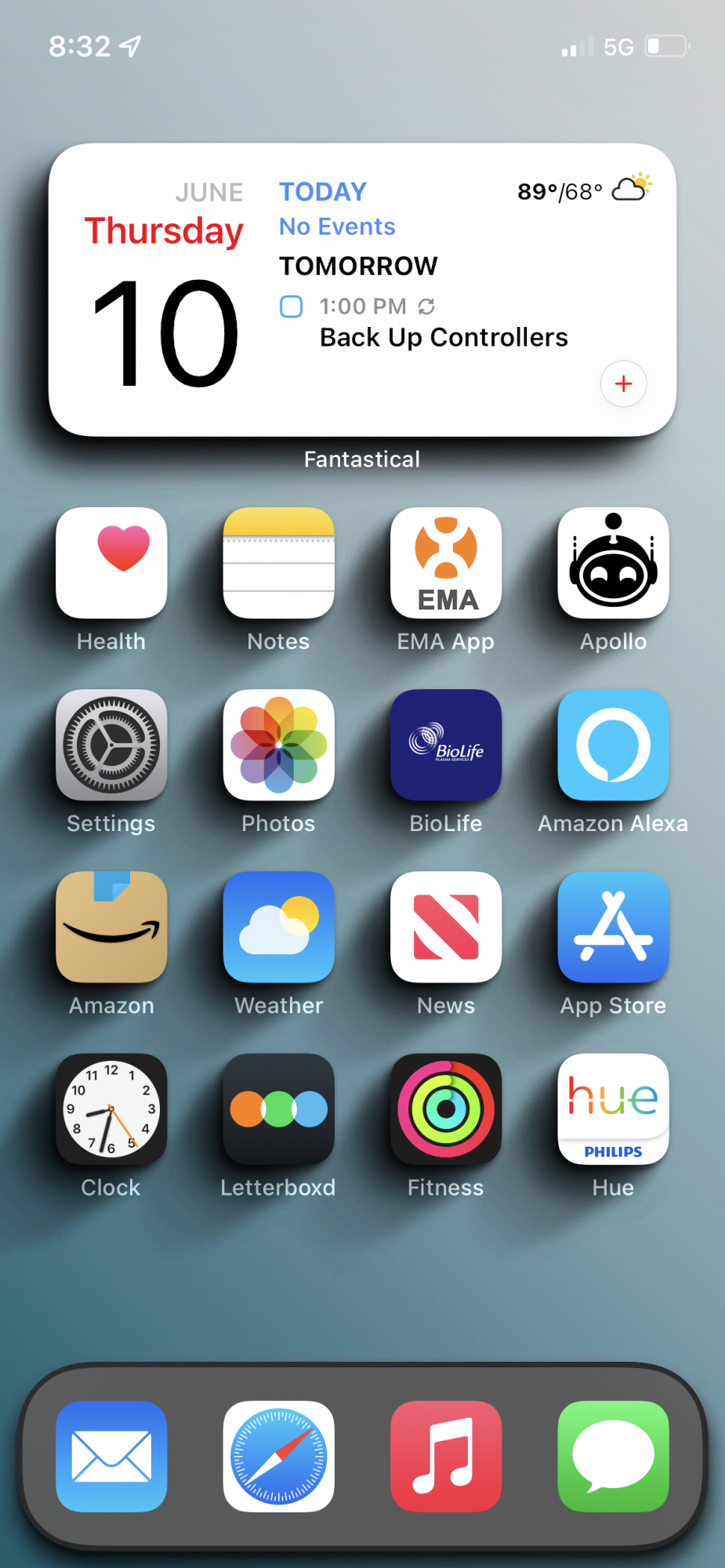 The Minimalist
To create the Home Screen layout, remove each app from your Home Screen and send them to the App Library. Then, you can choose to include a single application or folder in the Dock. If you'd prefer to keep your home screen empty, you can take advantage of a clear view of your wallpaper.
If you're trying to open an app, simply swipe down to the home screen of the app to launch Search, and then type in the first two or three letters of the application you're searching for. Your iPhone should be able to locate it quickly; simply tap it within the results of your search and it will open. You can always search in the App Library, too.
Monochrome
Utilize the Shortcuts application to design black, white, gray, or black icons for your favorite applications. Certain system applications, such as Settings and Camera, already use grayscale icons, and you don't have to be concerned about them.
After you've created your monochromatic application shortcuts, transfer all original apps into the App Library.
The Noticeboard
The iPhone Home Screen layout is ideal for those who are worried about receiving numerous notifications at the same time. Simply group applications that utilize notifications into non-urgent and urgent folders to quickly see the apps that require your attention.
There are a variety of notifications that can be important, but they are all important.
Color-Coded
Another alternative based on color could be to substitute your applications with color-coded shortcuts. Why not turn social apps red, games green, and entertainment and gaming apps blue? The color-coded iPhone Home Screen layout makes it easy to focus on apps that you'll need at a specific time.
This can be beneficial for people who have color blindness as you can select colors for various app categories that are easy to differentiate.
The iPhone Home Screen layout is ideal for those who would like to have lots of options, but without the clutter.
Instead of dividing apps into folders, create shortcuts with menus in the list that let you select different apps to open. Each shortcut can be given the name, icon, and color that symbolizes the group of apps it is part of.
Utilize the Choose from the Menu action in Shortcuts to generate an app list to select from. For instance, you could create a shortcut named "Read," which provides a list of reading apps, such as Books, Kindle, News, and so on.
Conclusion
This is our opinion on the most creative iOS 15 home screen ideas and how to define your unique way of thinking with the restricted software. There is no need to follow the rules, and you can take inspiration from the Home Screen concepts to design your unique design. Don't approach jailbreaking technology at face value. It could be extremely dangerous for your device. risk, so make sure you don't go through a route you don't know about. Tell us what you think of Homer's screen ideas in the post below in the comments section.